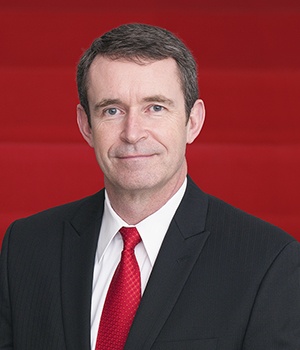 Michael G. Field
Chief Executive Officer
As chief executive officer of The Raymond Corporation, Michael G. Field oversees operations, sales and marketing, engineering and administrative functions. Since joining Raymond in 2004, Field has served as vice president of engineering and, most recently, as president of operations and engineering. In Field's role as president of the operations and engineering division, he was responsible for manufacturing, quality assurance, engineering and procurement.
Field has more than 25 years of experience managing engineering and operations groups at industrial companies. Field also is a member of the Toyota Material Handling North America (TMHNA) executive team and a board officer with several TMHNA legal entities.
Prior to joining Raymond, Field served as vice president of global program management for Brooks-PRI Automation, Inc. in Chelmsford, Massachusetts, which leads the semiconductor automated material handling industry with state-of-the-art robotic, automated guided vehicles (AGVs) and software control solutions. Prior to his work with Brooks-PRI, he was vice president of systems integration at PRI Automation, Inc. with responsibilities that included technical sales, system engineering and program management.
A graduate of Rochester Institute of Technology, Field holds a Bachelor of Science degree in mechanical engineering. He earned a Master of Science degree in manufacturing engineering and an MBA with a concentration in international operations at Boston University. He is a member of two advisory boards for the Rochester Institute of Technology Kate Gleason College of Engineering: the Dean's Advisory Council and the Advisory Board for Multidisciplinary Senior Design.
Field also holds the positions of chairman and director on the New York Battery and Energy Storage Technology Consortium, Inc. (NY-BEST) board and is a board member of the New York State Southern Tier Regional Economic Development Council. He is a Raymond representative on the General Engineering Committee of the Industrial Truck Association. Field holds a Professional Engineering License in New York.