Battery Maintenance & Battery Handling
BASIC RULES FOR BATTERY MAINTENANCE AND CARE
Please follow through on these simple rules to ensure optimal equipment performance.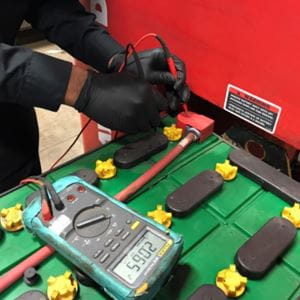 RULE 1: ALWAYS WEAR PROTECTIVE SAFETY GEAR WHEN HANDLING LEAD ACID BATTERIES
Lead Acid Batteries by their construction expose working personnel to four potentially dangerous elements: sulfuricacid, explosive gasses, electricity and heavy weight
Consult Safety Data Sheets before handling
Be sure to remove metal jewelry and always wear personal protective equipment (PPE) including safety boots, face shield/safety glasses, rubber gloves and rubber apron when handling a battery; wash hands with soap and water after handling
RULE 2: PROPERLY CHARGE THE BATTERY
Lead Acid Batteries by their construction expose working personnel to four potentially dangerous elements: sulfuric acid, explosive gasses, electricity and heavy weight
The charging area should have adequate ventilation when batteries are on charge; explosive hydrogen gas is generated during the charging process and it must be able to disperse effectively
Before charging, check to ensure the electrolyte is covering the top of the plates; if not, add just enough distilled or deionized water to ensure the plates are covered; overwatering right before charging can cause acid overflow
Make sure you have been trained to on how to charge a battery; use the proper charger size and follow charging instructions carefully
Connect and disconnect the battery with the charger in off position to prevent dangerous sparks
Batteries with steel covers should be recharged with the covers in an open position
RULE 3: CHECK THE BATTERY ELECTROLYTE LEVEL WEEKLY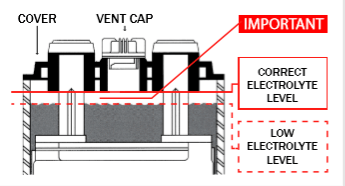 The plates of flooded batteries must always be fully submerged in electrolyte
After charging, check the electrolyte level again and add distilled or deionized water to ¼" below the vent well (see diagram) to cover the plates if low. Never add electrolyte
WARNING: Fully watering a battery before charging can cause an acid overflow
Any acid lost from the battery will result in power loss and shortened power life
Acid that gets on the outside of the battery will attack the external parts of the battery and should be cleaned off immediately
RULE 4: KEEP CELL VENT CAPS ON AND BATTERY TOPS CLEAN AND DRY
Keep vent caps on when the battery is in use, on charge or when cleaning the top; this prevents acid splashes and foreign matter entering and damaging the cells
Only carefully remove caps to inspect electrolyte levels before charging and when watering a battery after charging
For minor spills or overflow of electrolyte fluids, use an acid neutralizer to wipe them up right away with a rag or paper towel and dispose of it immediately
Every couple of weeks, wipe down battery tops with a battery cleaner
If corrosion has accumulated, use a corrosion remover to clean it off; this prevents damage to the outside of the battery
Speak to our Forklift Battery Specialist now (866) 454-1768 Ext. 4
Or complete the contact form below and our Forklift Battery Specialist will contact you to discuss your Battery Solutions needs.
Please fix the following errors and resubmit.