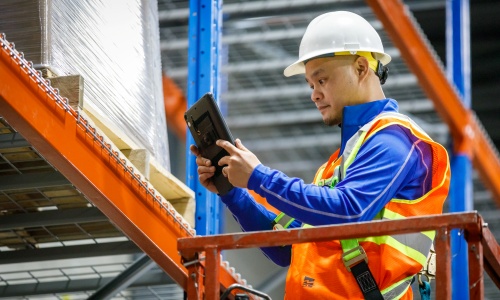 ✔ Improve workplace safety

✔ Lower liability in the event of an accident

✔ Comply with current safety standards

✔ Increase lifespan of your rack systems

✔ Improve employee retention & morale

Rack Safety and Compliance - We are here to help
Call us at 1-833-333-6402


Rack Damage Inspection

Employers are given the most responsibility regarding occupational health and safety and must "take every precaution reasonable in the circumstances" for the protection of workers. Users of storage racks should always ensure that the rack structure is configured, maintained and used in accordance with documentation provided by the rack manufacturer or engineer.

Rack components with altered shapes and permanent deformations can significantly compromise the structure's load-carrying capacity.

Even minor damage can accumulate over time and eventually result in the structural failure of the rack system.

Whether installed in a small warehouse or a large-scale distribution centre, your storage system is a critical asset to your operations. A Rack Damage Inspection by Rack it Right offers you a comprehensive evaluation of the condition of your storage systems. Our inspectors will adhere to all safety protocols while on site and will ensure that your daily business operations are not disrupted.

A detailed, easy-to-follow report of our findings will permit you and your Joint Health and Safety Committee members to prioritize corrective work and maintain your rack structure in "like-new" condition.

Team of knowledgeable and experienced Rack Inspectors and Engineers available Coast-to-Coast

The team of experienced Rack it Right professionals is always readily available to help you address any concerns you may have regarding the safe use of your storage rack system.

We offer a number of engineer-approved solutions to address the items noted in inspection reports and can provide assistance in complying with all applicable regulatory requirements.

Trust Canada's leading experts on steel storage racks to be your exclusive partner for an unbiased assessment of your rack systems. Contact Rack it Right today to discuss the possible implementation of a scheduled rack maintenance plan and rack inspection or forklift driver training programs that are tailored to suit your warehouse needs.

Contact Our Rack It Right Specialist Today.
Call us at 1-833-333-6402!
or fill out the form below for a no obligation quote on your rack inspection needs.
Please fix the following errors and resubmit.