Tips for Motive Power after Extended Downtime
If your operation has been shut down for a prolonged period of time (a week or more), you will want to exercise some caution when getting your forklift batteries ready to get back to work.
DAMAGE CAN OCCUR TO MOTIVE POWER ASSETS THAT HAVE BEEN IDLE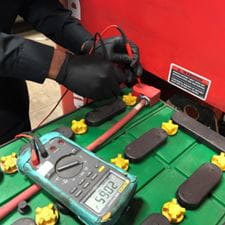 If your battery has either sat idle or been stored with a low charge, the voltage may dip low enough that a charger will not recognize or charge the battery. Additionally, batteries that have not been charged during downtime may show signs of advanced sulfating.
JOHNSTON EQUIPMENT CAN HELP IF YOUR BATTERIES ARE NOT RESPONDING
Try our four-step process below to get your forklift batteries going again. We've also suggested some things to look for that may be a sign you require some additional support.
REMEMBER: Ensure you've had handling training BEFORE you work with a lead acid battery and its charging system
If your power isn't responding after a complete charge cycle, please contact Johnston Equipment to work through what can be done to get your equipment back to life.
WHAT IS SULFATING?
Over time sulfate crystals form on the plates inside the battery, which may impede the free flow of acids. A chemical reaction between the electrolytes and lead cause the specific gravity to lower.

RESULT: Shortened run times and decreased equipment performance.
STEP 1: ALWAYS WEAR PROTECTIVE SAFETY GEAR WHEN HANDLING LEAD ACID BATTERIES
Lead Acid Batteries by their construction expose working personnel to four potentially dangerous elements: sulfuric acid, explosive gasses, electricity and heavy weight

Consult Safety Data Sheets before handling

Be sure to remove metal jewelry and always wear personal protective equipment (PPE) including safety boots, face shield/safety glasses, rubber gloves and rubber apron when handling a battery; wash hands with soap and water after handling

Before starting your inspection, make sure the battery is unplugged from the truck
STEP 2: CHECK THE BATTERY ELECTROLYTE LEVEL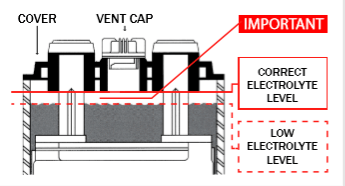 During extended downtime, battery electrolyte fluids can evaporate

The plates of flooded batteries must always be fully submerged in electrolyte when put to charge
BEFORE putting to charge, be sure to remove cell caps and inspect the electrolyte level of each cell to ensure it is covering the top of the plates (see diagram); if it is not, add just enough distilled or deionized water to ensure the plates are covered
WARNING: Overwatering right before charging can cause acid overflow; any acid lost from the battery will result in power loss and shortened power life
After inspection, ensure vent caps are properly re-installed to prevents acid splashes and foreign matter entering and damaging the cells

REMEMBER: If you need to remove the battery to inspect and/or water it, be sure to use the appropriate battery roller stand or battery removal device and extract it completely from the truck prior to engaging in required work
STEP 3: PROPERLY CHARGE THE BATTERY
The charging area should have adequate ventilation when batteries are on charge; explosive hydrogen gas is generated during the charging process and it must be able to disperse effectively

BEFORE CHARGING: use the proper charger size and follow charging instructions carefully

Connect and disconnect the battery with the charger in off position to prevent dangerous sparks
Batteries with steel covers should be recharged with the covers in an open position
After charging, check the electrolyte level again and add distilled or deionized water to ¼" below the vent well (see diagram above) to cover the plates if low
If an acid overflow resulted during charging, clean the fluid spill immediately; acid that gets on the outside of the battery will attack the external parts of the battery and should be cleaned off immediately
STEP 4: ENSURE CELL VENT CAPS ARE SECURE AND BATTERY TOPS ARE CLEAN AND DRY
As a general best practice, only remove caps to inspect electrolyte levels before charging and/or when watering a battery after charging

Wipe down battery tops with a battery cleaner

If corrosion has accumulated, use a corrosion remover to clean it off; this prevents damage to the outside of the battery
For minor spills or overflow of electrolyte fluids, use an acid neutralizer to wipe them up right away with a rag or paper towel and dispose of it immediately
BEEN TOO LONG?
Try preventative maintenance first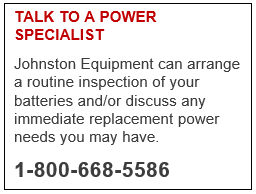 If your battery is not responding to charging after sitting idle, you might not need a new battery. Instead you might try bringing in an experienced battery technician to perform routine maintenance and minor repairs on your battery. If this sounds like your situation, or you just want to ensure that all your equipment is running at peak performance, this is an option that can help you recover your asset.
OR
Consider leasing new replacement power
If you need a replacement battery that you weren't expecting, our Power Leasing Program is designed to support your need for cost-effective, quick turn-around on replacement power.
Our Power Leasing Program features include:
Minimized cash outlay for unplanned power expenses, including special low introductory payment for first three months or interest rate discounts

Improved and simplified cost control with one predictable monthly payment

A lease payment that is fully tax deductible

A simple, fast application and approval process to get you into your replacement power quickly and easily
Contact us today for your replacement power quote and ask for our easy lease option.
---
or let us know below what you're looking for and a representative from your local Sales & Service Center will be in touch.
Please fix the following errors and resubmit.